It can be daunting undergoing hand or wrist surgery for the first time without knowing the person you're putting your trust in, so we've decided to bridge this gap and help you get to know your surgeon.

Today, we will dive into the background of Ladan Hajipour, and fill you in on her extensive background, knowledge and skills she's developed over the years to make her one of Manchester's leading hand and wrist surgeon's. 
Background
Ladan's surgeon story begins in 1991 when she studied Advanced Zoology and Biology, at Tehran University. She achieved a BSc, which would become a huge stepping stone in her illustrious career. Once this first achievement was obtained, the next prize Ladan had set her eyes on was an MB ChB at the University of Dundee. MB ChB means 'Bachelor of Medicine & Bachelor of Surgery', which is a tough degree to accomplish, but Ladan passed the test with flying colours. 
After she completed her degree, the next step on her journey to becoming a Manchester hand surgeon was challenging the MRCS exam. This is where you will be examined to see if you possess the correct knowledge and skills to complete basic training. If you pass this exam, you will have the opportunity to reach higher levels of specialist surgical training. Once again, Ladan Hajipour passed this latest examination, which pushed her further up the surgeon ladder. 
The next logical step Ladan had to take was studying for an FRCS, which is a qualification where you can study to be a senior surgeon in Ireland or the United Kingdom. After undergoing this in 2010, Ladan gained the FRCS certification. . In 2013, she began studying for her MD, which is a doctor of medicine degree – a truly prestigious achievement to accomplish. Just like the previous challenges faced, she passed this degree based on the hand flexor tendon treatment, and has published and presented many scientific papers at both national and international meetings.
Throughout the years Ladan has also won numerous University and postgraduate awards, which has helped her leap boundaries in the medical industry. If you would like to learn more about what she's accomplished, find out more here.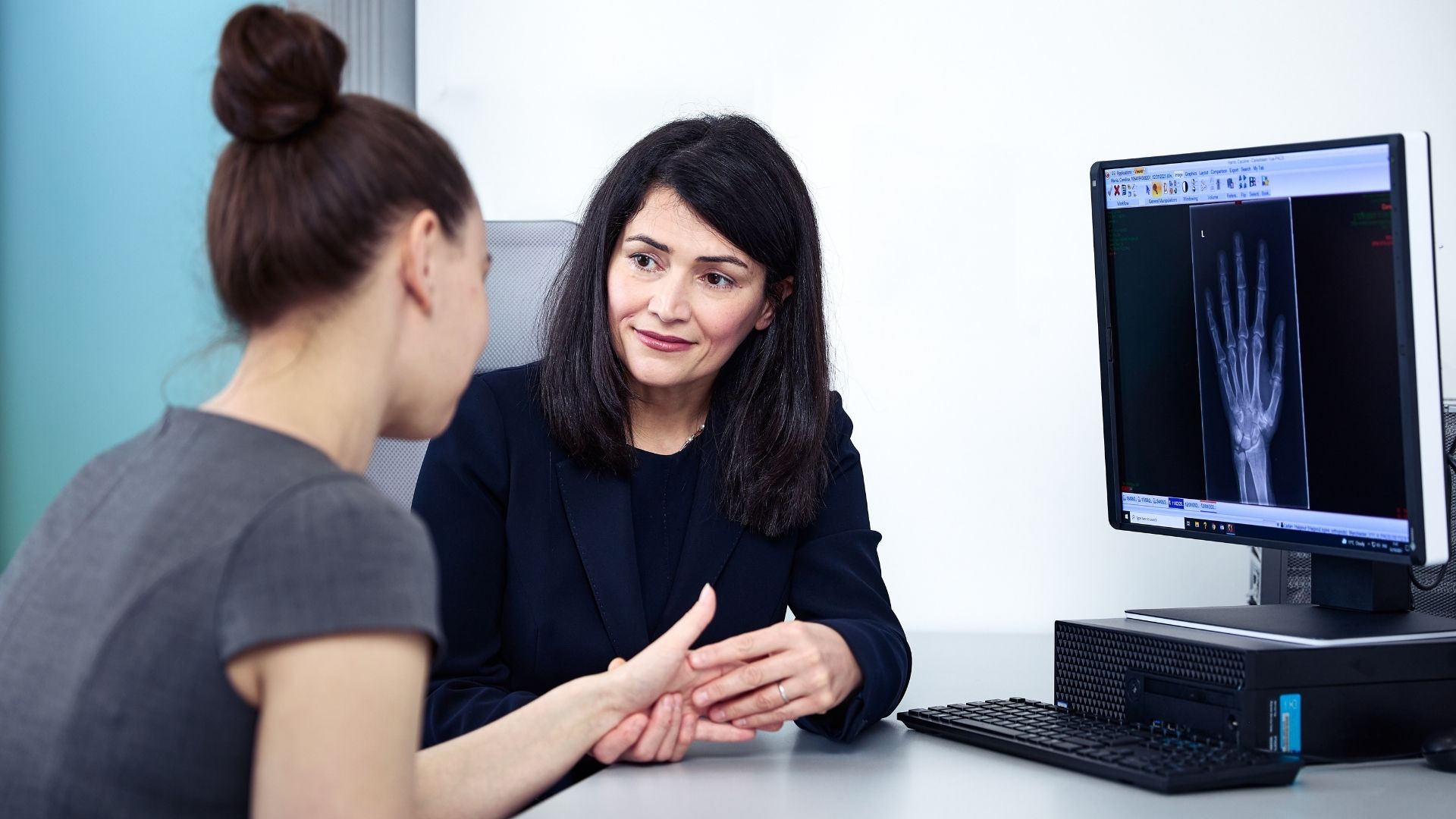 Expertise
Since 2012, Ladan Hajipour has been a consultant orthopaedic surgeon running three clinics across Manchester and Cheshire. Her expertise covers many hand and wrist conditions, such as cubital tunnel syndrome, Dupuytren's disease, scaphoid fracture plus much more. If you're suffering from pain in the hand or wrist, Ladan can help dissect the issue you're suffering from. Her extensive knowledge will diagnose the problem, and from here she will help lay out the best route you can take.
With any condition you may be suffering from, Ladan will suggest treatment options that are available for you. This can be something as simple as wearing a splint whilst you're sleeping, or if the symptoms are severe then this could mean surgery to relieve you of pain. After wrist surgery, Ladan will advise what you can or can't do, so make sure you listen to the advice she gives you as it's crucial for your recovery. However, this won't be the end of your time with Ladan, as in the weeks after surgery you will revisit for aftercare appointments to make sure everything is healing as expected. So, you can rest assured knowing you will be looked after. 
As mentioned previously, Ladan's clinics are spread across Manchester and Cheshire, with the first of her practices located at Orthteam Centre at The Spire. This is a practice made up of highly skilled consultants in musculoskeletal conditions with a vast array of experience in the healthcare centre.
Ladan's next practice is based in the Alexandra Hospital in Cheadle. You can book an appointment with her from the times of 2 pm – 4 pm on a Tuesday or 6 pm – 8 pm on a Wednesday. This facility is her most recently opened clinic and is a BMI Healthcare hospital. Finally, Ladan's last practice is located at the NHS University Hospital of South Manchester in Wythenshawe. This is a huge teaching hospital with incredible facilities to suit a learner's needs. 
If you live near either one of these clinics and you would like to find out what is causing you pain in the hand or wrist, book an appointment with Ladan Hajipour today!
Testimonials
For many years, Ladan Hajpour has proven to be one of the leading hand & wrist specialists in the UK, with over one hundred testimonials to prove it. She's attentive and caring, which are two key components to becoming a top Manchester hand surgeon and having successful relationships with patients.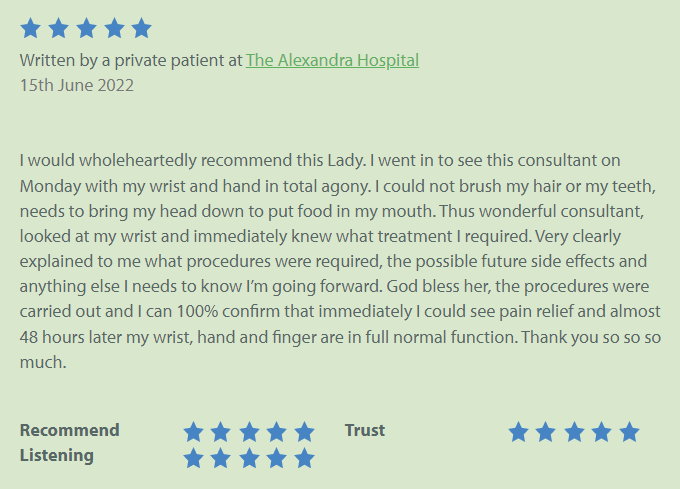 As you can see in the example above, this patient is thrilled with the work Ladan has produced and throughout the entire process, she was there to support her. There are many more testimonials to prove Ladan's excellence, and If you would like to read the rest of Ladan's reviews, click here and see what her patients have to say. 
We hope you enjoyed reading our latest article and gained new insight about Ladan Hajipour. If you would like to learn more about her you can discover new information here. Alternatively, if you would like to book a consultation, get in touch with us today!
---